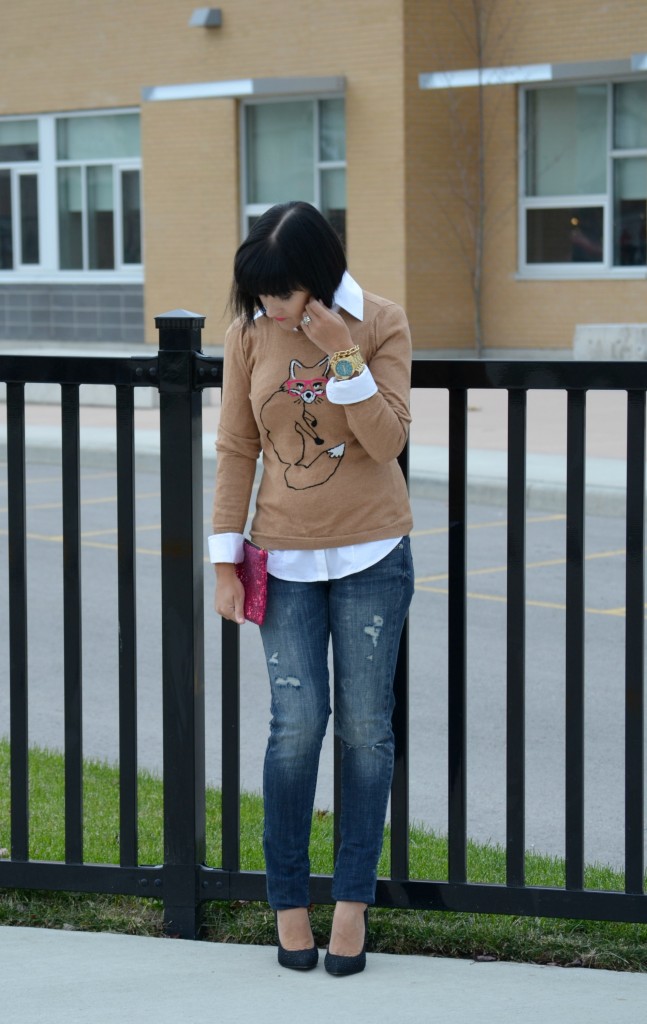 Dog goes "woof", Cat goes "meow", Bird goes "tweet", And mouse goes "squeek"
Cow goes "moo", Frog goes "croak", And the elephant goes "toot"
Ducks say "quack", And fish go "blub", And the seal goes "ow ow ow"
But there's one sound, that no one knows, what does the fox say?

Seems like every year there's that one annoying song that everyone can't stop singing and dancing to, that one song that no one wants to admit they love, the one you fight hard not to sing along to, the one that you know will be over played and right now that song is "What Does The Fox Say". I can't get enough of it (give me another few weeks and I'll be begging not to ever hear it again), but for right now….. I love it.

Who Let the Dogs Out, Mambo No. 5, Blue (Da Ba Dee), Macarena and Gangnam Style are just a few of the other songs that at the time, I had to sing along with.

Fox Sweater- Old Navy- $30- in stores now
Shirt- Smart Set- $35- 2009
Bracelet- Smart Set- $10- May 2013
Bracelet- c/o- Smart Set
Clutch- c/o Hello Fab
Watch- Michael Kors Hunger- $355- Gift from hubby
Jeans- American Eagle- $60- Jan 2013
Shoes- Spring- $40- May 2013