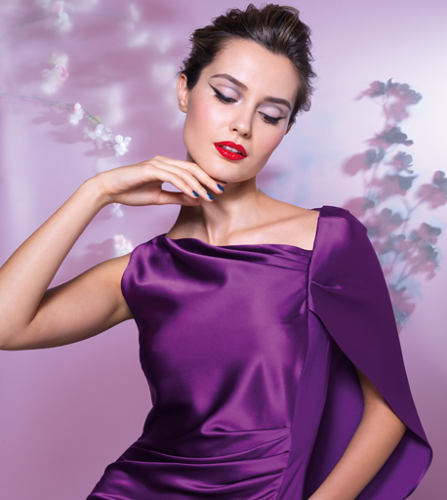 Since this is my first time blogging about ARTDECO I wanted to give you a little background on the brand, in fact, its more than just a cosmetic brand, it combines numerous collections into one integrate concept that makes it unique. ARTDECO is a market leader in Germany, has been around since 1985, has won countless amount of awards and has quickly become a favourite beauty brand in more than 70 countries around the world. The basics collection consists of fashionable makeup products like lipsticks, glosses, mascaras, eyeliners, eyeshadows and nail lacquers.
Come discover ARTDECO Fashion Colours Collection for Fall 2013 when "Beauty Meets Fashion" from creative genius Johnny Talbot and Adrian Runhof of the international designer label Talbot Runhof; with its motto of this special limited edition ARTDECO collection being "East meets West".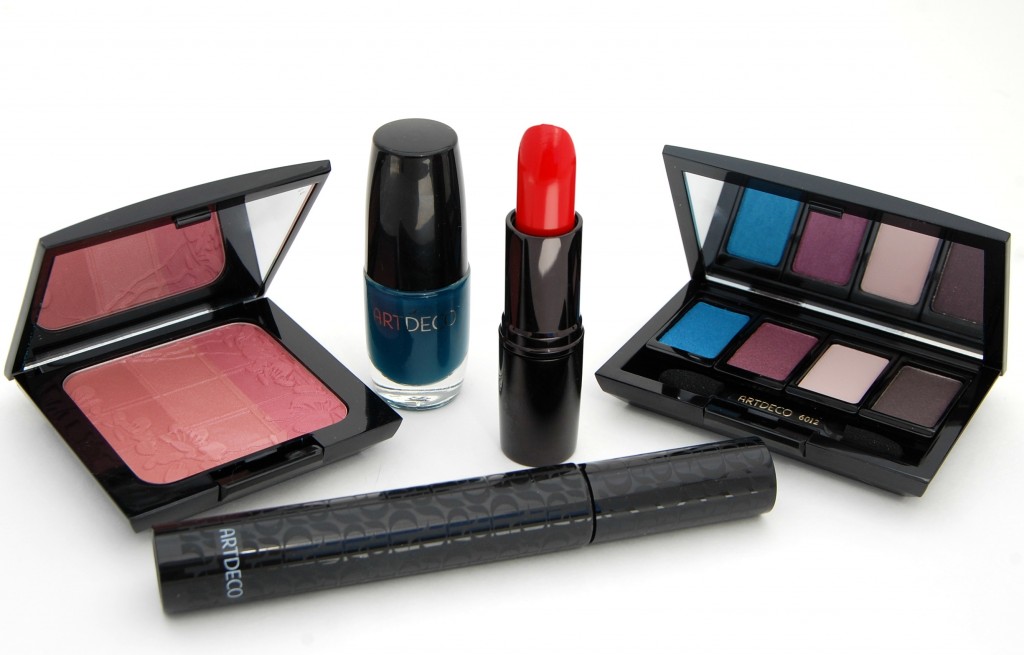 ARTDECO Beauty Box Quattro is magnetic so you can fit and hold a variety of eyeshadows and blushes (either 4 magnetic eyeshadows or 1 blush and 1 eyeshadow) in each compact. The magnetic strip on the inside of the compact ensures your eyeshadows or blushes won't go anywhere, it makes it easy to switch up the contents of this palette with ease and you also have the freedom of hunting down any shade you want and slide it into the system as your preference evolves. I love this idea, its perfect for when I'm on the go, traveling or want to create my own personal colour palette. This Talbot Runhof limited edition beauty box is a metallic black with a beautiful purple, grey and blue tartan design in the background with an overlay of gorgeous cherry blossom on the front of the compact with built in mirror on the inside lid. The empty quattro retails for $14.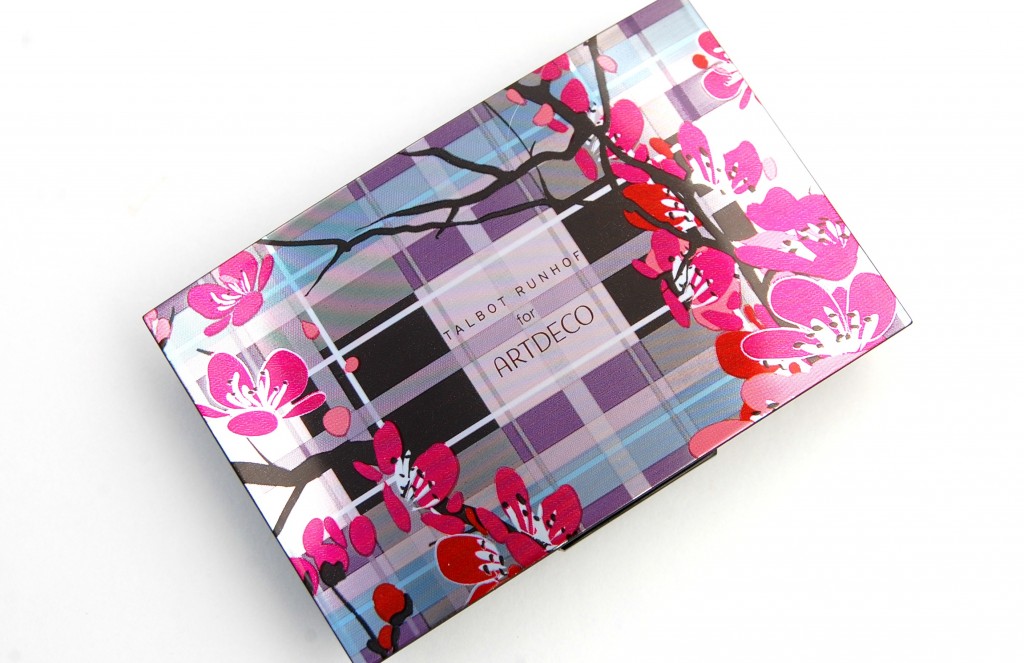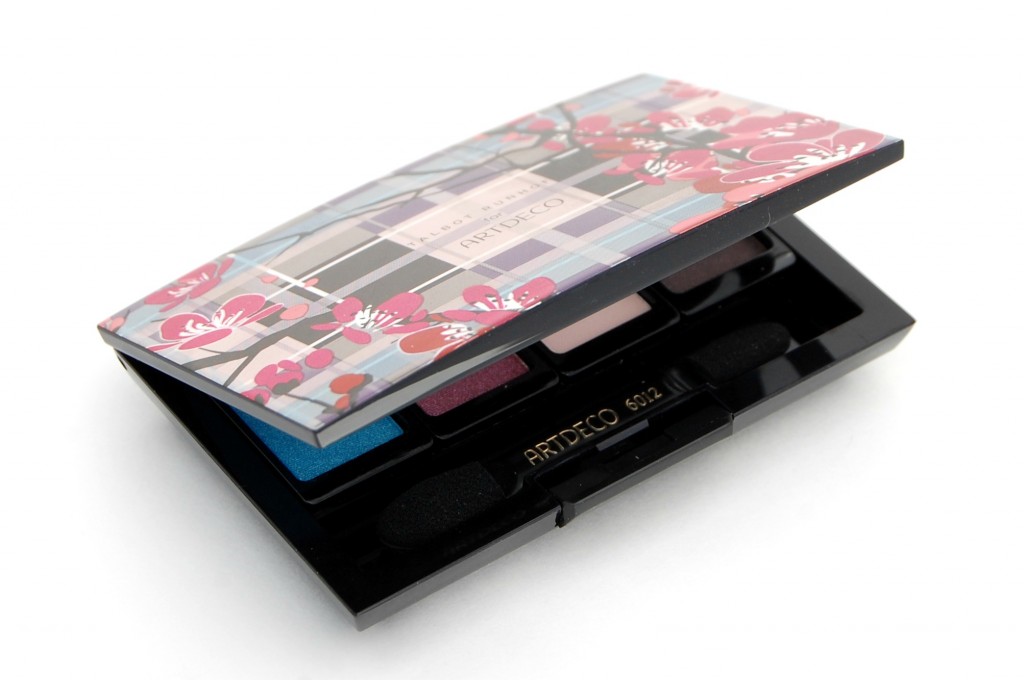 ARTDECO Single Eyeshadow pans come already magnetic (so no de-potting like other shadows) and have the shade number on the side of the pan so you don't get confused when you want to cover them with the clear, replaceable lid that is provided with each shadow. The colours are rich, silky, yet not overly creamy with great pigmentation. They have little to no fallout, are long-lasting and set to a soft finish on the eyes. ARTDECO Fashion Colours Collection eyeshadows features Peacock Coquette (#64) a stunning turquoise blue, Cherry Blossom (#88) an intense plum purple, Matt Rosy Starling (#584) a light ivory/ pink and Western Opera (#280) a dark eggplant that all complement each other beautifully. Each pan contains 0.8g of product and retails for $8 each.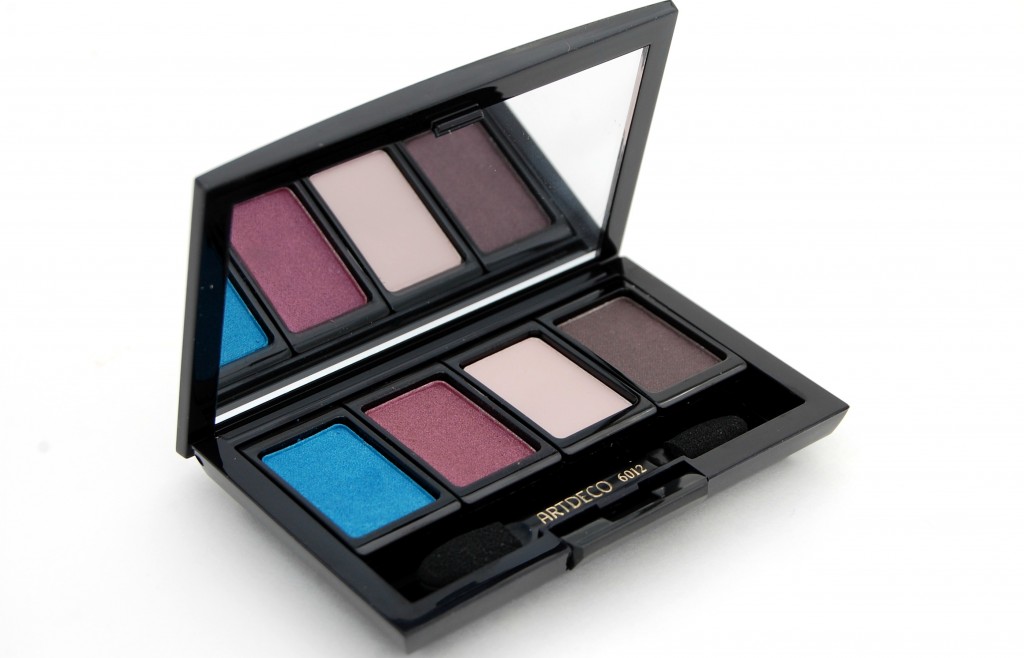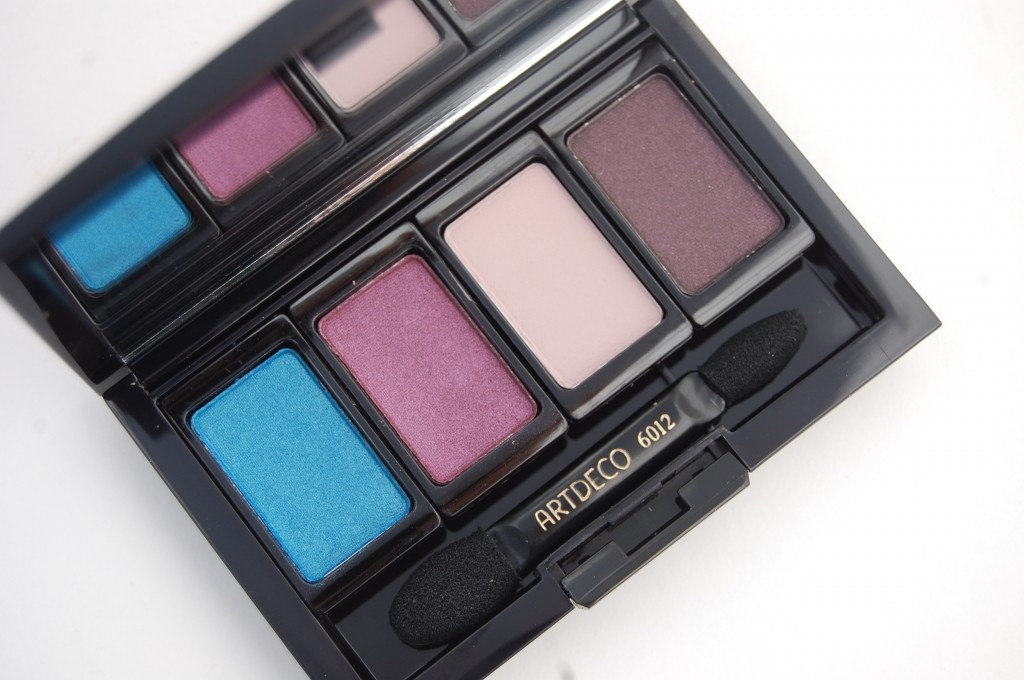 ARTDECO Tri-colored Blush Couture comes in the same stunning, limited edition packaging as the Beauty Box Quattro, with 3 soft pastel colours, with just the right amount of shimmer, that can be used together or on their own to give your cheeks a radiant glow. It's highly pigmented, easy to blend and feels silky smooth on the skin, all while providing professional results all day long. As an added bonus, it contains Vitamin C and Vitamin E that provide an anti-aging character to the blusher and is paraben, fragrance-, lanolin- and mineral oil-free. Although I love mixing all 3 shades together to create a unique blush colour, my favourite for the past few weeks is picking up the darker shade as a bronzer, then applying the rosy shade as my blush and the lighter coral colour as a highlighter. This 3-in-1 blush is a steal at only $32.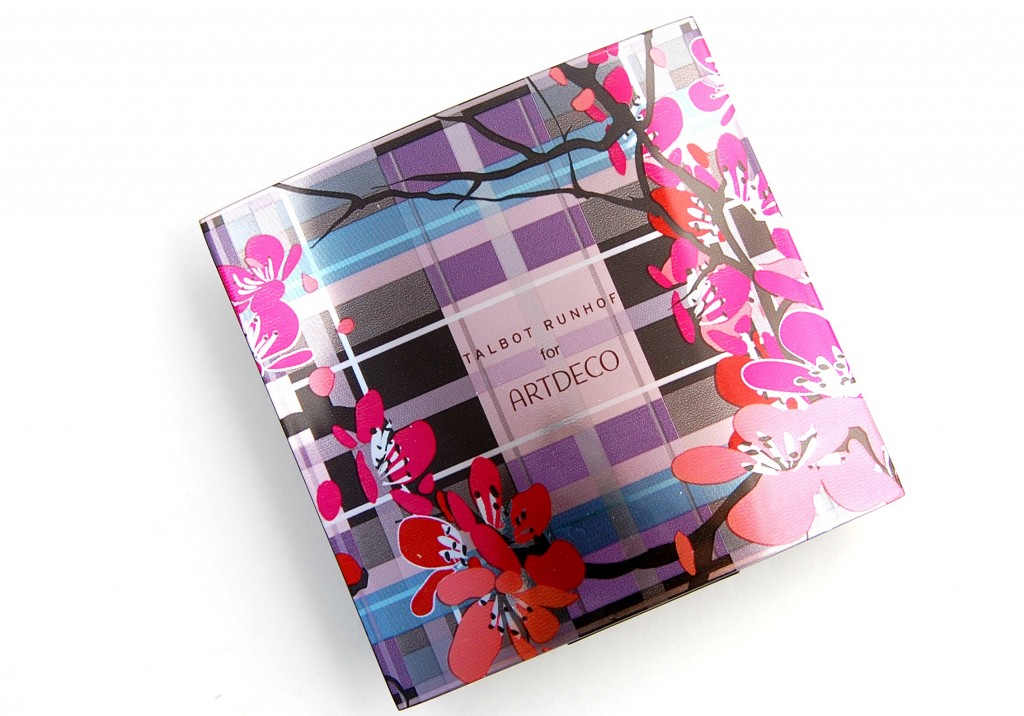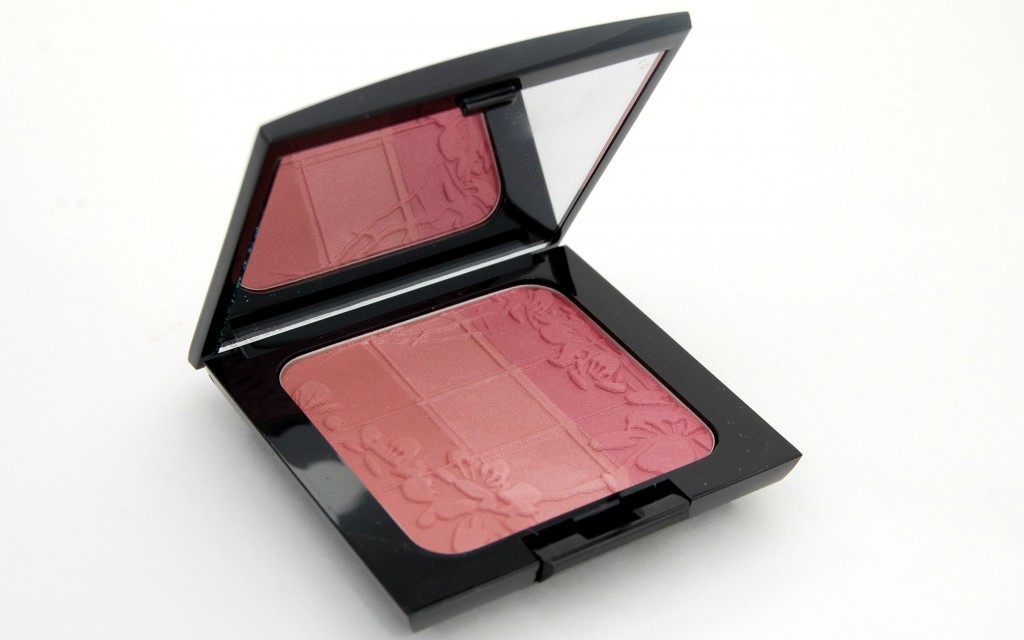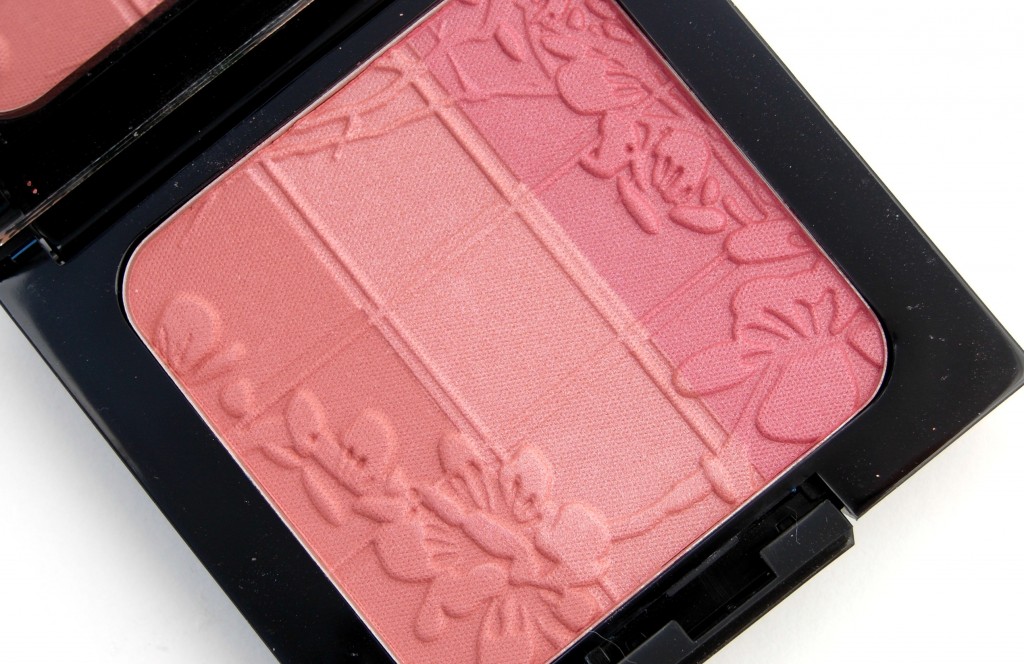 ARTDECO Art Couture Lash Volumizer Mascara comes in a sleek, black, embossed monogram tube that offers extra volume, length and separates and curls the lashes thanks to its Super-Soft- Fiber brush. The formula is quite light, is clump free and is easily applied to the lashes. It builds amazing volume, while stretching and grabbing even the shortest lashes to give extra length to each lash. Although it does claim to be fragrance-free, there is a soft scent to it, that I can't quite put my finger on, but I've noticed it is less strong than other mascaras. It's perfect for sensitive eyes and contact lens wearers as its natural rice bran wax nourishes each lash. This is definitely a one coat mascara, although you can build it up to give a more dramatic effect without it clumping or getting spider like. This retails for $21.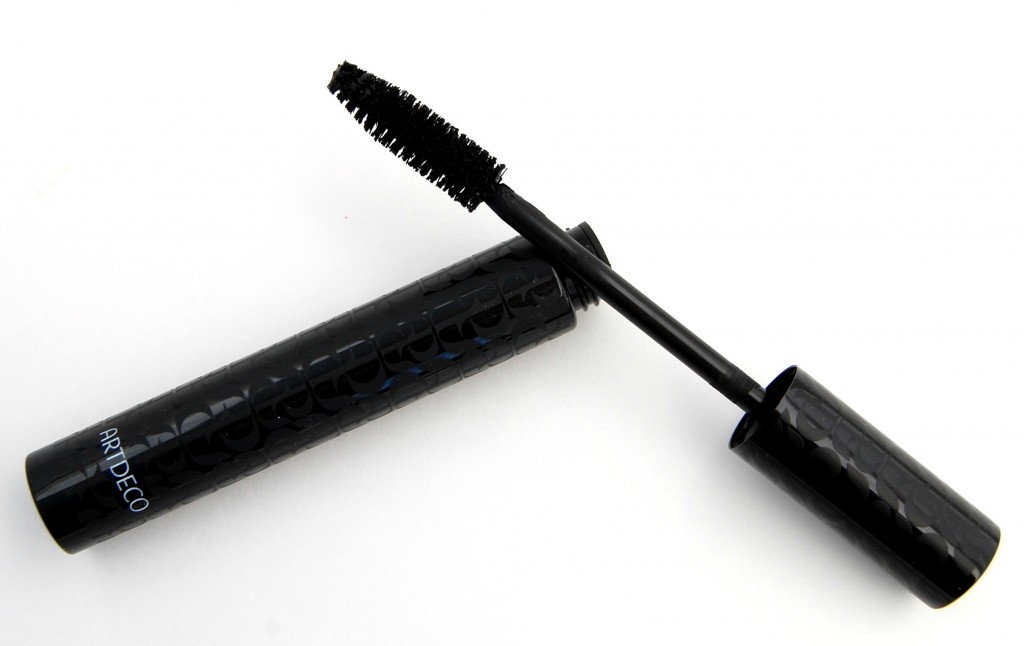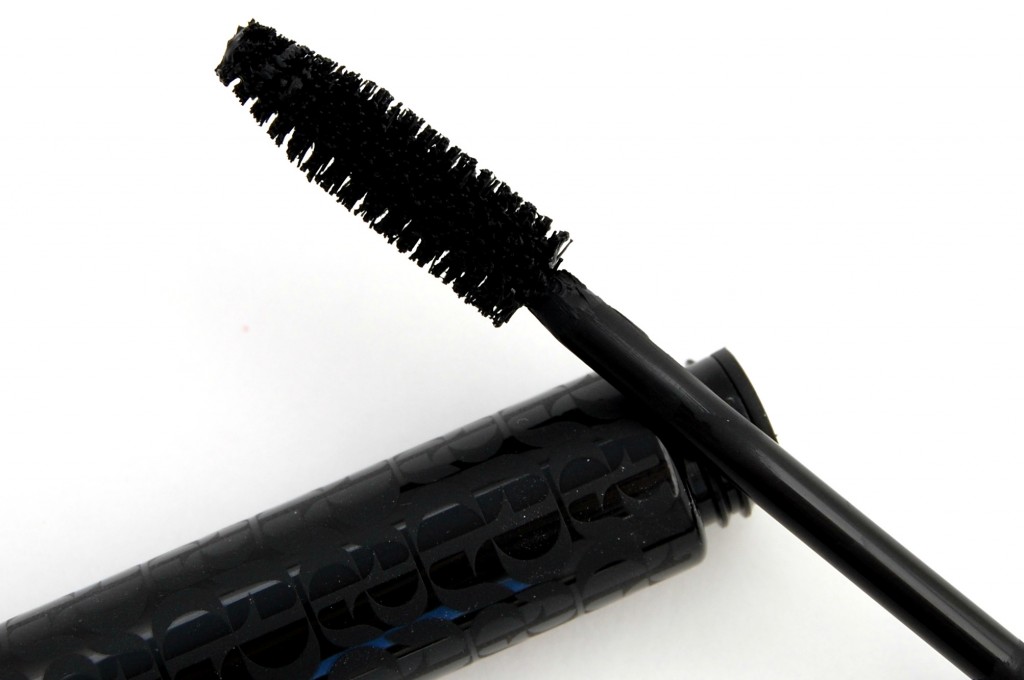 ARTDECO Perfect Color Lipstick comes in a standard, black lipstick tube with the word ARTDECO in gold on the front. It has a rich, creamy texture that pampers the skin thanks to nourishing waxes and oils. ARTDECO Fashion Colours Collection features a bright, bold, rich in colour red, Exotic Kiss (#02) and a light nude, Rosy Starling (#41). It provides full coverage that's opaque and stays put for the entire day, all while feeling velvety soft on the lips. Vitamin E protects against free radicals and moisture loss, keeping your lips hydrated all day long. It retails for $14.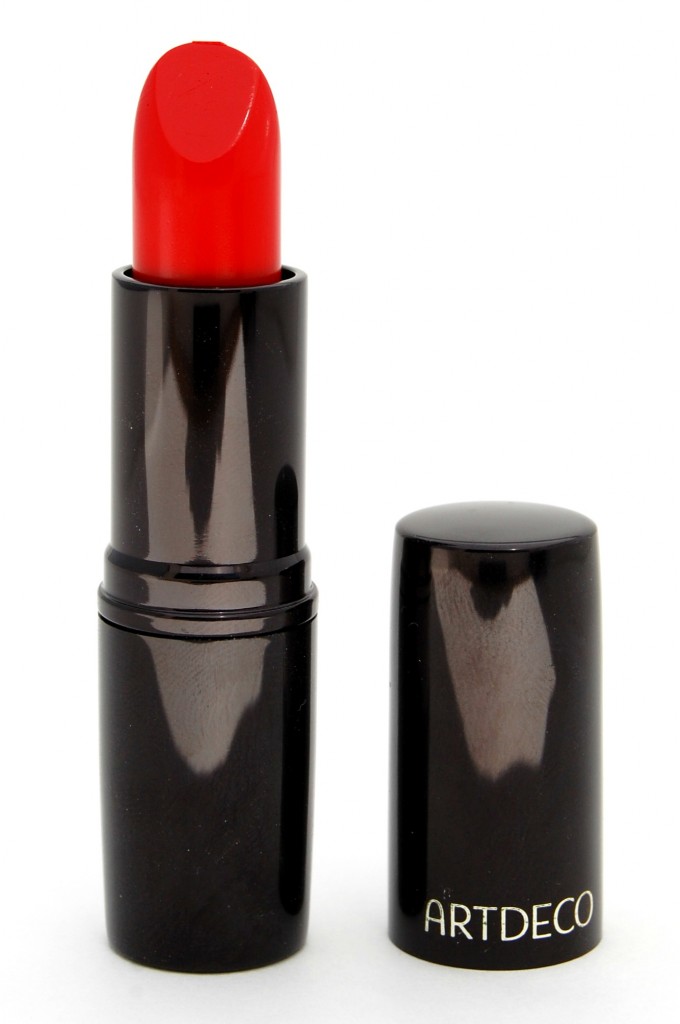 ARTDECO Ceramic Nail Lacquer formula is great, a little thicker than most polishes, but still really easy to apply. The opacity is amazing, only one coat needed to get full colour payoff, but I went ahead with another coat just in case. The brush is flat and just wide enough to cover each nail in 2 easy strokes and dries within a few minutes. It lasts about 5 full days, in perfect condition before you start to see any chips. New colours selections include Cherry Blossom (#37), Rosy Starling (#63), Peacock Coquette (#136) and Western (#278) and retail for $12.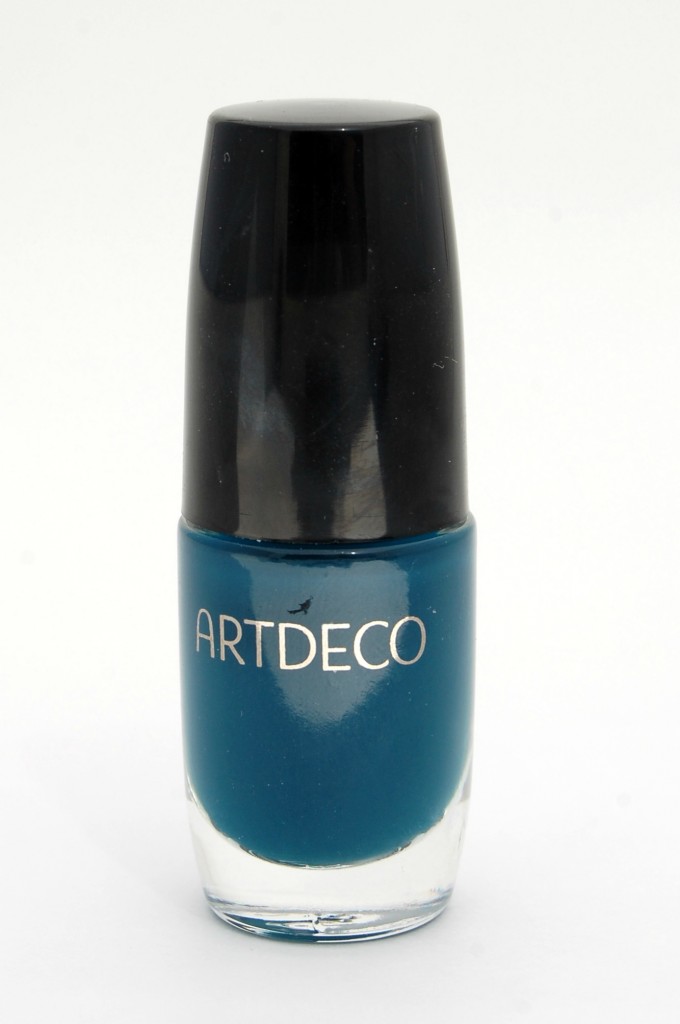 ARTDECO Ceramic Nail Lacquer in Peacock Coquette (#136)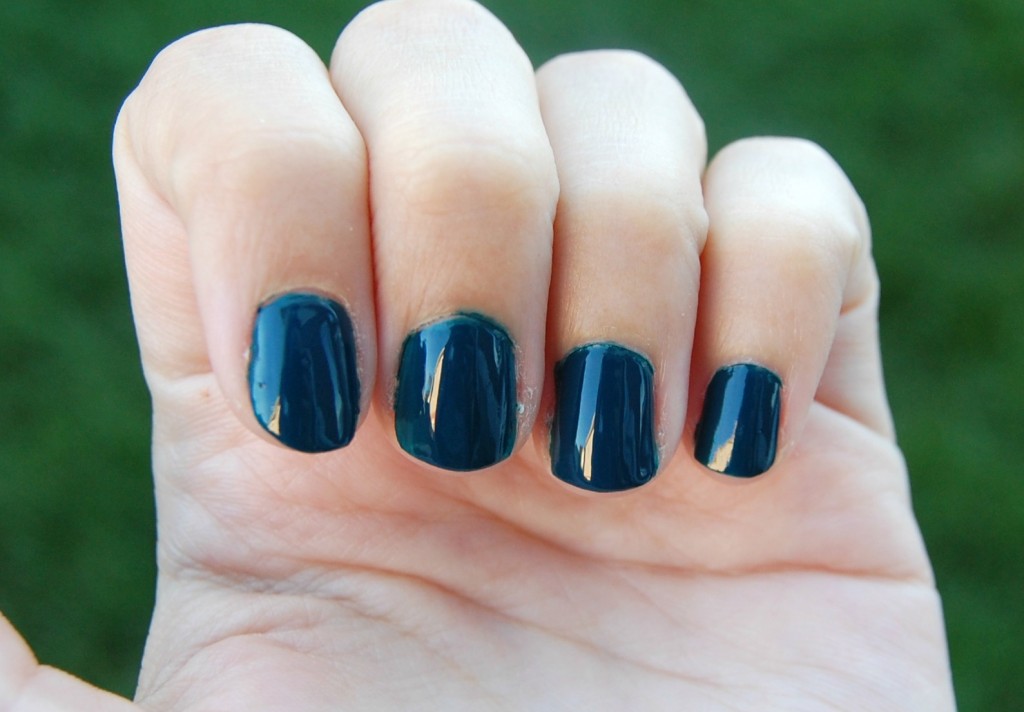 Also in the ARTDECO Fashion Colours Collection is Eye Designer Refills which is a useful alternative for a long-lasting eye-makeup in Rosy Starling (#09), Peacock Coquette (#163) and Cherry Blossom (#190) that retail for $14. Magic Eye Liner in Western Opera (#74) with its smooth texture, highly pigmented, long lasting formula that retails for $19. Soft Waterproof Eyeliner that's extremely durable, soft and smudge proof in Peacock Coquette (#62) and Cherry Blossom (#84) that retail for $11.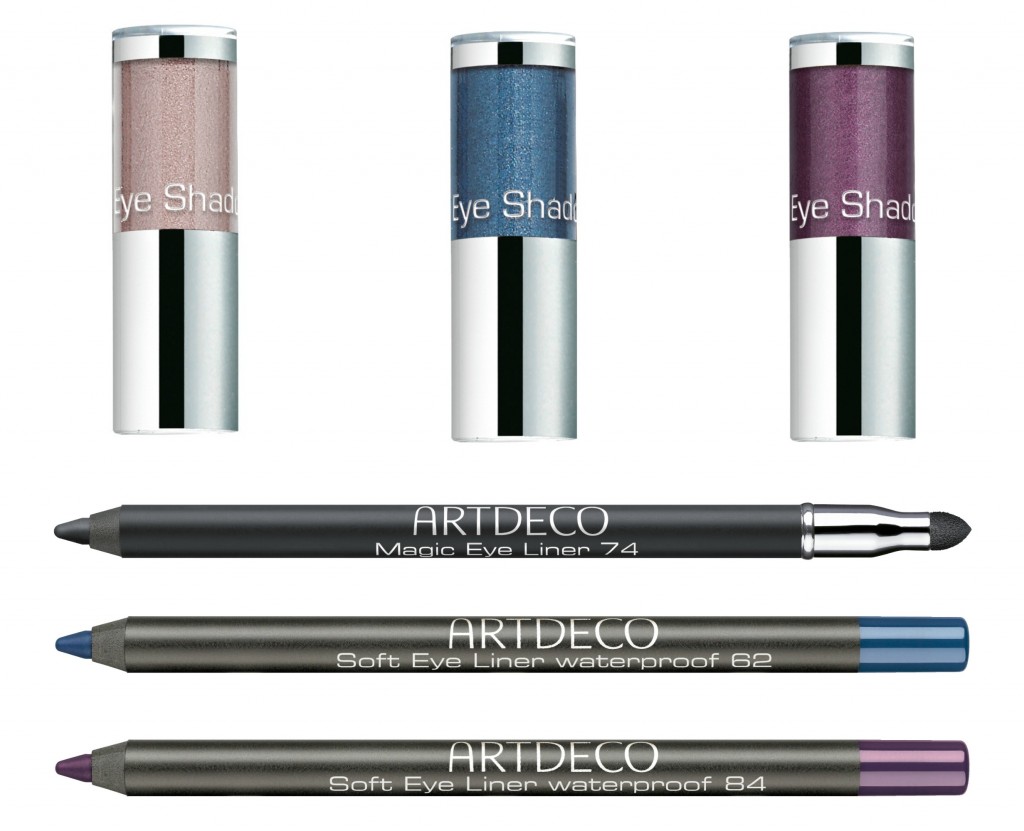 Premium Blusher Brush made of fine goat hair and features a specially rounded and angled shape that enables better control of the blusher application and retails for $14.



Mineral Lip Styler contours lips and extends the durability of any lipstick in Mineral Western Lily (#16), Mineral Western Columbine (#19) and Mineral Cherry Blossom (#42) and retails for $14. High Performance Lipstick that visually increases lip volume and adds nourishment to them in Western Azalea (#421) and Cherry Blossom (#466) and retails for $21. Art Couture Lipstick has a creamy texture with rich colours in Velvet Western Columbine (#681) and Velvet Western Lily (#685) and retails for $22.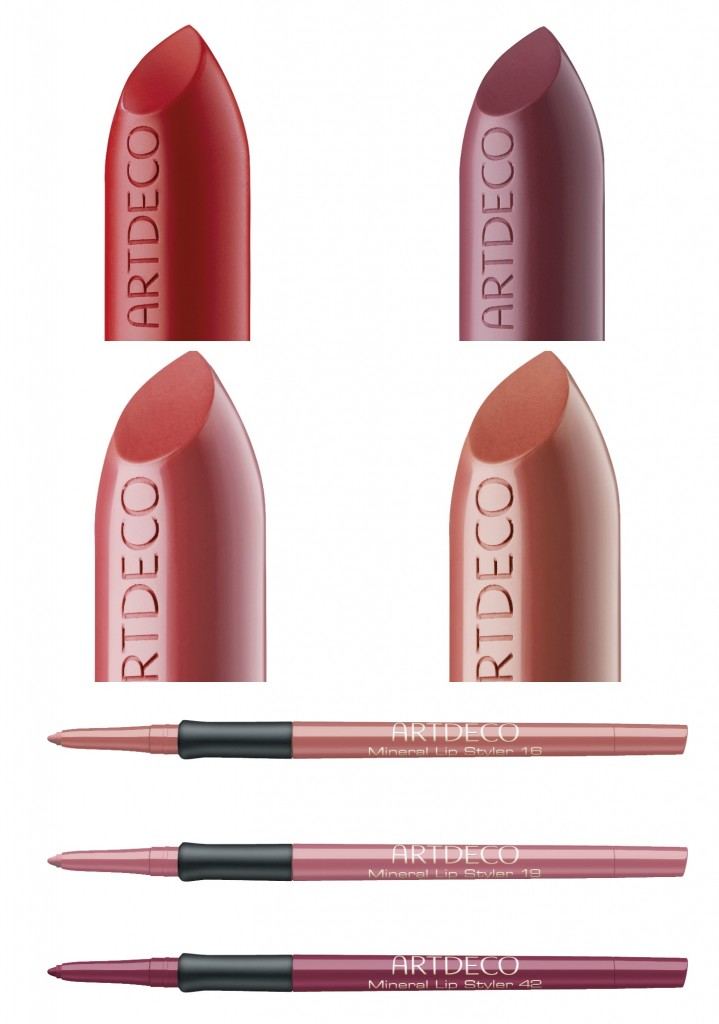 The new product lineup is available at select Shoppers Drug Mart locations mid-September 2013.